Round 1 of the 2013 NFL Draft is tomorrow.
It's something I look forward to every year.
Here's a good article on foolish draft moves from Bill Barnwell, of FootballOutsiders and Grantland fame:
http://www.grantland.com/blog/the-triangle/post/_/id/58704/avoiding-dumb-mistakes-at-the-nfl-draft
If 80 percent of success is just showing up, the other 20 percent is anticipating the game before we get there.
Earlier this week, The New York Jets dealt all-world cornerback Darrelle Revis to the Buccaneers for a 1st round pick in this draft and a conditional choice in 2014, so they've got some cards to play early this year.
The Revis Trade is the latest of a series of moves to shed salary for a team better known for p.r. gambits and media chicanery than sound player acquisition. The Jets are trending downward and expectations for the 2013 season aren't pretty.
One thing is certain: Head Coach Rex Ryan will be the fall guy.
He's managed to turn the Jets fan base—one of the most moribund in all of sports—against him despite doing a good coaching job: an impressive feat. A rookie head coach just two years removed from consecutive AFC Championship appearances should be basking in fan adulation, not fighting for his job. Rex's penchant for writing checks neither he nor his team could cash is largely to blame. With the onset of a salary purge, lack of attention to the offensive side of the ball, and a new front office in place, those chickens have come home to roost.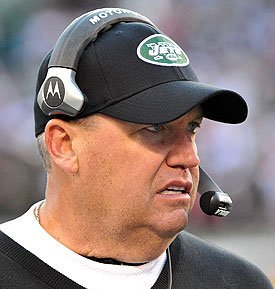 Rex is gonna have a helluva time talking his way out of this one.
The Jets should focus on the O-line and D-line with their early choices and worry about finding a quarterback in the later rounds or in 2014. If Tavon Austin can be had with one of those picks, grab him. too. Drafting linemen isn't sexy and will draw the ire of short-sighted fans, but it's the first step in building a winning team. While bottoming out may rankle the fan base, it will set Gang Green on the road to contention—assuming we don't waste those picks.
Given the Jets draft history of late, that's a a tall order.